ARL 500
Complete Lift Controller System
Advanced Solutions, Advanced Features.
Full collective, Up or Down Collective
Double Speed, Hydraulics, VVVF
Magnetic Switches, Encoder System
Door bridging (Door pre-opening and re-levelling)
Available (Built-in only for VVVF and hydraulic systems)
7 Segment, Gray/Binary Code LCD Output
Programmable Input/Output
Up to 256 faults (with time, date and floor number concerned)
Turkish, English, Russian, Dutch, Polish, Swedish, French, Italian
Usage Advantages of ARL 500 complete Elevator Control System
ARL-500 System Overview
ARL-500 System Overview
ARL-500 Elevator Controller is a complete pre-wired plug & play lift control system with control panel, inspection box, car and landing operation panels and pit box.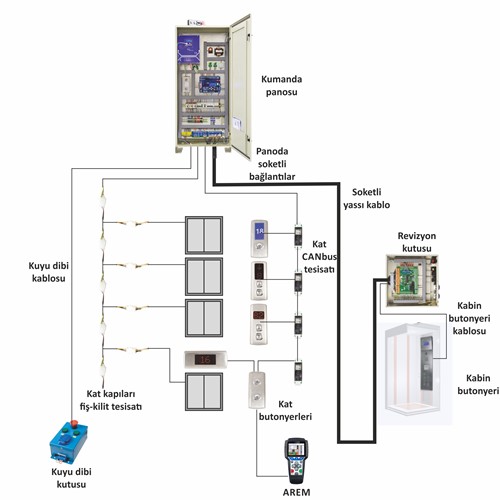 Plug & Play Installations
Plug & Play Installations
Besides control cards and panels, in ARL-500 system there are ready installation cables that have ends with connectors. Thus, with the help of plug & play connections, cable confusion is avoided, connections are made easy and installation time is minimized. Also, the possibility of faulty connections is minimized and connections become more secure electrically.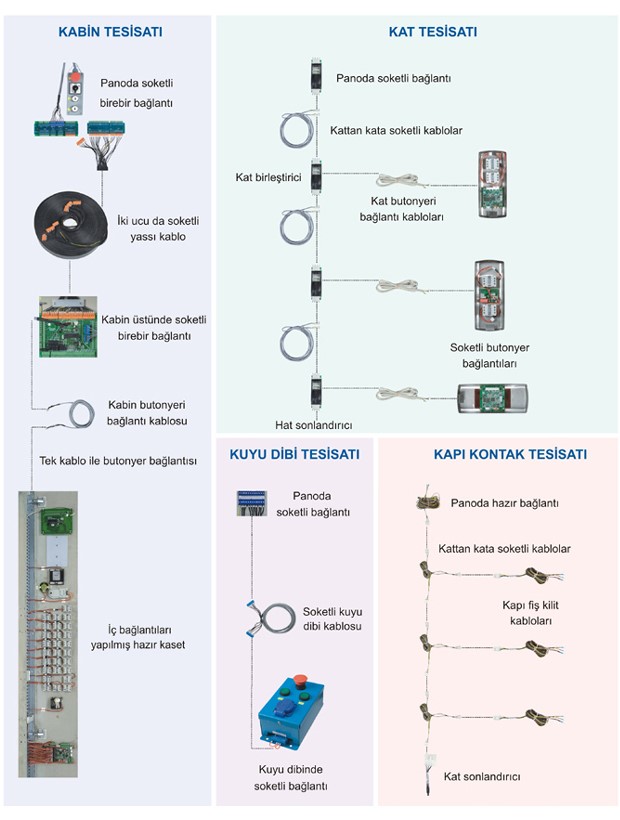 Remote Access Terminal
HS500 Remote Access Terminal
HS500 remote access terminal provides the remote access to control card menu when it connected to the CANBus line from any part of the system.
Indicator Options
Indicator Options
In ARL-500 system, there are module options with no indicators, with graphic LCDs or with dot matrix displays. Connections with car and floor units are made easily and quickly by the cables with sockets via CANbus line.
Graphic LCD Control Panel
Graphic LCD Control Panel
ARL-500 system has a widescreen LCD and easily used menu. Thus, on a menu in which informative instructions are used instead of abbreviations, parameter settings, elevator monitoring, and error tracking can be done easily.

Remote Control & Monitoring System
Remote Control & Monitoring System
Wherever you are on the world, your ARL-500 is just a click away.

Ability to access multi-lift through the internet or the LAN connection simultaneously.

Ability to monitor and make adjustments on remote elevators.

Ability to obtain detailed error reports on remote elevators.

Ability to adjust and monitor the ARL-500 and ADrive menus remotely.
Complete System
Complete elevator control system with all electronic equipment. Saving extra cards provided by its components that work in complete harmony. Getting the whole command system from one supplier thereby saving time.
Pre-Wired Installation
Plug & Play connections by pre-wired installations saving from labor time by easy and fast installation. Secure and faultless connections by pre-tested cables.
New Generation Design
New generation design with CANbus serial communication technology.Cabin position detection with the encoder. Access to remote lifts via computer and modem.
Modern Interface
Graphic LCD screen, instructive menu without abbreviations and codes. Access to the menu from any point by hand terminal that is connected via CANbus Log of the errors with date, time and floor number
Arkel Quality
Full compliance to EN 81-1 / 2 + A3 standard in a complete system. Production and timely delivery in line with customer requirements ARKEL product quality, technical support and material guarantee.